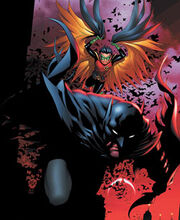 The Dynamic Duo
of
Batman and Robin
is a team of two superheroes,
Batman
and
Robin
. There have been five different teams of Batman and Robin.
The original Batman has participated in three different teams of Batman and Robin:
The Richard Grayson incarnation of Batman has only participated in one team of Batman and Robin and is the only one who has officially worn the mantle of both Batman and Robin:
Richard Grayson and Damian Wayne
Although Tim Drake was considered a Robin, his title of Red Robin did not make him an official Batman and Robin duo. Despite this, they still acted as if they were.
Ad blocker interference detected!
Wikia is a free-to-use site that makes money from advertising. We have a modified experience for viewers using ad blockers

Wikia is not accessible if you've made further modifications. Remove the custom ad blocker rule(s) and the page will load as expected.